It deserves me right, that I'm now struggling to decide where to begin, since I haven't been writing anything for the last 18 days.  We started our campervan adventure in Christchurch, after we had spent an amazing week with Helen and Mike. This week really deserves its own entry, since we did amazing things and you might have seen some of the pictures from this week already. Helen and Mike told us a lot about flora and fauna of NZ, explained about native species and the problems introduced species (both animals and plants) can have on the entire NZ ecosystem. Their knowledge is amazing and we tried to remember some of the things they told us. During the last 18 days it helped us to see things from a very different perspective. They also gave us advice on what to see and do. As alway there is never enough time to do everything and as one migh imagine, and many attractions or activities are quite pricy.
I had mentioned before, that traveling in a campervan is slow and I think we would have liked to do a few more hikes to get closer to nature, but we didn't have the time. Nevertheless we saw the most amazing things, here are some:
Camping on Mount Cook, the highest mountain in NZ, and looking at a glacier while having dinner.
Swimming in lake Pukaki (Felix did, I chickened out and am annoyed about it now) which had the most amazing colour one can imagin.
Jam tasting at the Bakers Jam Factory in Geraldine. This might not sound very spectacular, but man, we do enjoy our purchases
Enjoying our daily coffee break in little coffee shops along the way. For what ever reasons I had this particular view on how I imagine NZ coffee shops to be and I have not been disappointed so far (my wasteline instead had to suffer since the cakes, muffins and scones are rather delicious).
Crossed the highest number of single lane brides in my life. Some are not too bad, while others look like our van would never fit on them.
Had the most amazing views of the Milkyway and the southern skies.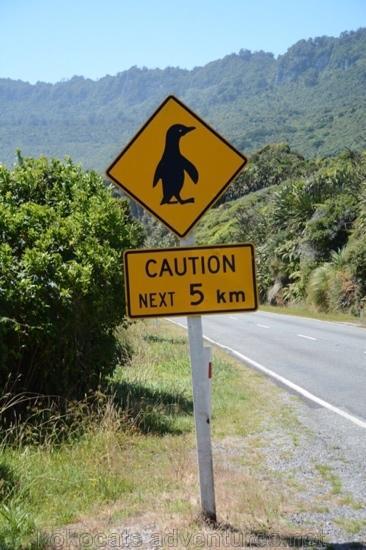 Went to Omarau to see yellow eyed and blue penguins. After you have seen a little blue penguin waddle pass you, you might be unsure how you will be able to live without having one for yourself. They are the cutest and tiniest things. Sadly they get run over by cars, even if there are plenty of signs. The number of yellow eyed penguins is drastically declining and this is very very sad. So we think we were lucky to have seen one come out of the sea and wander off into the bushes.
Had a little photo session at Moeraki Boulders (after we had a coffee break obviously)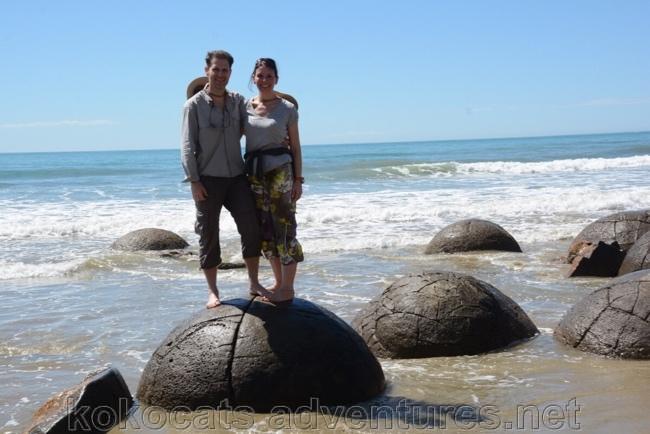 Saw Royal Albatrosses and Royal Spoonbills in Dunedin as well as more penguins, after we had climbed up the steepest street in the world. The Baldwin street is even in the Guinness book of world records.
Did freedom camping in the middle of nowhere, which was less nowhere than we thought it would be, since the train line beside it was rather busy during the night.
Had day trips to Doubtful as well as Milford Sound, all starting from Te Anau, where we stayed for 3 nights. This was also where we saw our first Tuis. Listening to Tui and Bellbird songs is just amazing and it always cheers you up.
Passed through Queenstown in a blink – far too busy and it really freaked me out with the big van. I'm therefore unable to comment on its potential beauty.
Got eaten alive by Sandflies in Jackson Bay
Had a spectacular helicopter flight to see the Fox, Franz Josef and Tasman glaciers. Being on the ice and snow is just amazing and the views were breath taking.
Walked around Lake Matheson 3 times at different times of the day(s) to see the famous reflections of Mt Cook. We either had clouds or ripples but got faster each time.
Went on a glow worm walk. Seeing the glow worms was amazing, unfortunately this required us to walk around in the dark, which really is not my strengths.
But hey, a few days later we went to the End of the World and did a cave hike. Dark slippery caves wher you had to climb or nearly crawl… I managed to get through and have to admit that the glow worms as well as the gold flakes in the rock were fabulous. The off-track hike was the most difficult hike I've ever done but I was rewarded with the encounter of a very curious Robin, who entertained us for quite some time.
New Zealand wine is great and sadly they do have great chocolate too (bring on Easter – I so want a chocolate Kiwi, bunnies are so yesterday)
Love love love the forests. They look like they are all made up, since they are so wonderful it's difficult to imagin that something so perfect is actually real.
Did our morning jog at Pancake Rocks. The light was great and it was just us and the Rocks (and some sandflies obviously).
Did a night walk (yes, I did it again) into the forest in St Arnaud to hear Kiwis. We think we might have heard one and also some Morepork. I think I will have to write about the bird separately since they are great and really should be devoted their own post
And here we are now, in Picton, on a rainy and stormy night, waiting for the ferry to take us to the North Island, where the second chapter of our adventure will begin.
I am not sure what the North Island will bring, but I for sure am glad that I had a chance to see all the amazing things on the South Island.
Edited with BlogPad Pro