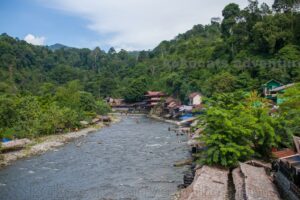 It feels good to take off the face masks after more than 30 hours of travelling. It is already dark when we arrive in Burkit Lawang, a small village on the Indonesien island of Sumatra and breath the jungle air. Our little hotel and jungle track organiser "Sumatra Orangutan Explore" is located at the far end of the village that stretches along the river Bahorok, so a group of young men meet us to offer transportation – on their mopeds. Two balance our suitcases on their bikes, two others take us as passengers to speed along the narrow path. The adventure has truely begun.
The next morning after a light breakfast we set off on our 3 day jungle trek in to the Gurung Leuser Nationalpark with two guides. Anja is carrying the camera bag with the heavy zoom lens, so most of the clothes, water and equipment is on my back and I quickly realise that we should have restricted ourselves more, or I should have done a bit more training beforehand.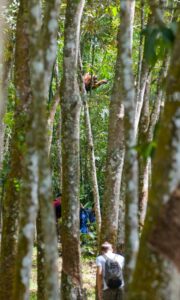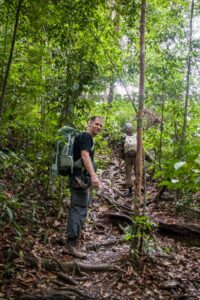 Our main guide Ipol is singing in front of us a "jungle trek, jungle trek " version of "Jingle Bells" that will be stuck in my head for the rest of the trip. The second guide Diam is walking the forest floor in the back so quietly, I sometimes have to check whether he is actually still there, while Anja and I are huffing and puffing up the hills of the jungle. I actually did not realise the areas would be so hilly. With the small footpath being overgrown with roots or made of washed out mud still slippery from last night's downpour, we realise that this will be no afternoon stroll but pretty hard work in this hot and humid climate. But we get rewarded constantly with amazing views, fascinating plants and all kind of animals. We had warned the guides beforehand, that we were interested in all kinds of things, big and small, not just the main attraction, the Sumatran Orangutan. These however make a first appearance fairly quickly. Another group of tourists have gathered around and are getting much too close to the trees the orangutan is sitting in. We had chosen this trek operated for their "ethical" approach to experience the jungle: don't get too close, keep the wildlife wild and leave no trash. It just feels amazing to stand there and watch this beautiful animal that is watching us with big dark eyes. The Sumatran Orangutan has longer hair than the species on Borneo and almost never comes down to the ground from the trees. They are critically endangered with between 7000 and 15000 living in these forests only. Some these animals have become used to human visitors and stick around for us to watch in excitement.