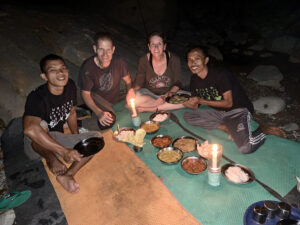 While our trek through the Gunung Leuser National Park turned out to be pretty challenging for us two old adventurers, we are rewarded multiple times a day with delicious meals beautifully prepared by our two guides of "Sumatra Orangutan Explore". In the evenings we are joined by a third team member preparing dinner and the meals for the next day's journey. After a quick bath in the river and some time to sort out the rucksack and relax, we are enjoying our very own candlelight dinner next to the river. The Indonesians try a few little mind games with us, but I fail miserably – my brain is definitely on vacation.
Our camp consists of a few bamboo huts with thin mattresses and a mosquito net that Anja and I share. It will be a constant pulling and tucking to keep the net covering the two of us. During the night it starts raining heavily, but it is hard to differentiate from the intense sound of the river streaming next to us.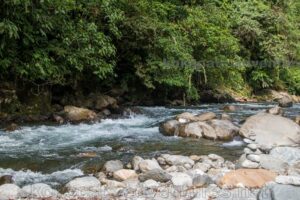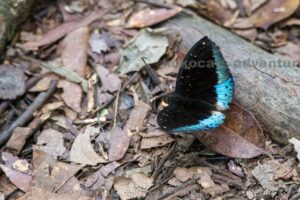 The next morning our path continues it's ups and downs over the hills of the jungle. It is a slow going and we stop frequently to inspect a beautiful tree or a big insect. I'm sure our guides will have enough of butterflies for a while. At the same time they might be happy to be able to show more of their jungle to visitors than the orangutans. We do come across the "people of the forest" a few more times. At one point we have to hurry back the way we came as a big male orangutan is heading our way. They move through the jungle with their current mating partner and you do not want to come in between them!
Part of the final journey is done on the river using a raft made of three big tires. We sit in the middle one with our legs sticking up, the guides are steering in the front and back. It's a somewhat comical but actually really nice way to travel (apart from a few stony bumps in the butt) and avoids us crawling up the sides of the valley again. When we arrive back in the village Burkit Lawang after another hike and river crossing part, the celebrations for the Indonesian Independence Day are still underway. We feel slightly out of place and it will take us another night to adjust our minds from the jungle back to civilisation.