Ok, it looks like I did not manage to keep up the writing while we were stuck in Thompson during what was their worst winter storm for over 50 years. You've got to love the people from Thomson. It was a mahosiv blizzard and they kindly called it "winter storm".
This storm got us stranded for a week. Yes, you have read that correctly – 7 DAYS in Thompson. The dream of every traveller – or not. When you search for activities in Thompson, you usually get one-day itineraries. This gives a rather precise impression of what there is to do in Thompson.
Don't forget, we were trying to reach a remote lodge at the cost of Hudson Bay to possibly find polar bear mothers and their cubs as well as other wildlife. It never had crossed my mind that anything like this could happen. We should have spent 11 days at the Nanuk lodge. Every day in Thompson reduced our chances of seeing bears drastically, and chances were already slim to start with! Well, sometimes things can just not be changed, so why not try and make the best out of it. Here is the full (possibly rather long) story of our time in Thompson.
What previously happened on our quest to go West……. (we already managed to go North from our starting point in Winnipeg).
We are a group of 8 trying to reach Nanuk lodge at the coast of Hudson Bay. Our quest is to find polar bear mums and their cubs.
Find out what happens if a 56-hour blizzard gets in your way and you are stranded in Thompson.
Who are we.
There is Mike (owner of the company Churchill Wild)- the man who tried the impossible to get us to Nanuk and made sure we didn't need to starve. (Our happy hours in the motels' meeting room were one of the highlights of the time in Thomson)
Stuart – thanks to his fluorescent jacket all of us managed to cross the roads safely during the blizzard
Jad – pretending to be the photographic guide, his real job was to come up with crazy ideas, like building a snow cave or an igloo, to keep the spirits high.
Andy (aka the hornet) – had to break trail wherever we wanted to go.
And not to forget, our fellow travellers.
Andy from Huston/Texas
Michele from Paris
And there were Felix and myself – from HUETTENFELD!!!  – Listening to all the great stories they have to tell, makes me feel like I'm coming from a small village in the middle of nowhere and haven't made it out of there ever……. ahhh wait, I am from a very small village in the middle of nowhere.
Never mind, now you know the cast, which honestly can make or break a trip.
As you might have seen, our pre-blizzard activities included some nature trails to see a waterfall and dog sledding. With the blizzard on our doorstep, we then decided to go for a little ski-doo ride. Since 3 out of 5 never road a snowmobile, why not break us in with a 120 miles track. Felix and myself sat on one machine and this was not making it any easier….
And than the blizzard came with full force and we were all grounded. We even struggled to find food, since most of the restaurants and supermarkets were closed. While it is not uncommon to have that much snow throughout a winter in this area, we were told that Thompson never saw that much snow in just three days, especially not in March. Just to give you a bit of an idea about the severity of the storm, that stood between us and our final destination – Nanuk lodge.
While Mike was trying to figure out ways to get us to the lodge, we entertained us with all sorts of activities.
During the blizzard, snowdrifts got very high around our hotel, so obviously the logical thing to do was a little excursion behind the hotel pretending to look for bears (I am sure this are the first signs of cabin fever). Andy, Jad, Felix and myself went out in the storm and tried to break trail…. great entertainment for everybody inside the ground level rooms of the hotel. After we posed for some shots (well, that's what you have to do if traveling with professional photographers, no matter how strange the setting is) we made our way back. And it wouldn't be me if nothing slightly unfortunate would happen……. I managed to lose one of my boots in the snowdrift and we had to dig it out…. after I was reunited with my boot we finally could go back inside to have some warm drinks.
Despite the fact that we were not where we wanted to be and actually didn't even know if we would ever make it there, we tried to be as cheerful as possible. As previously mentioned, the evening usually started with some drinks and nibbles before we ventured out to find somewhere to eat. After a few days our gang was well known in Thompson, since it is not that common that a group of identically-dressed people wander through the stormy grounds.
After three days the storm had passed and Thompson slowly came back to life.
There was a new glimmer of hope that we would be able to leave Thompson.
Sadly the storm was still going strong at the lodge and 10 foot snowdrifts were blocking the runway. So there was no way for us to get there just yet.
Trying to keep the spirits high, we went on a snowshoe adventure. Cars couldn't really drive yet, since everything was still under deep snow, so we decided to walk to Colleen's place to get the snowshoes. I never snow-shoed before and naively thought you would stay on top of the snow.
Now I know that this is not the case when you wander through powdery masses of snow! The person in front, who had to break trail, had a tough job to do, sinking down to the hips sometimes. But the weather was beautiful and we had a lot of fun. Back at the hotel we were hoping for some good news, but the snow on the runway at Nanuk was still too high and the wind still blowing.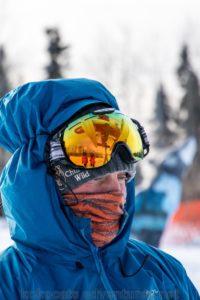 The next day was again nice, sunny and cold. We've been in Canada now for exactly one week and it looked like Jad just had enough….
He went to Dollar Store and bought two rather big knifes. But don't be concerned, he didn't turn into a knife-stabbing lunatic. No, this was our equipment to build an igloo.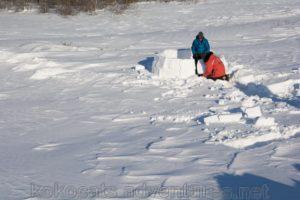 Well prepared (after watching a YouTube video on how to build an igloo) did the four snow warriors venture into the unknown (well, actually it was a field behind the local pub) to build a shelter to protect us from the elements. Or rather: to have some cool foreground for some potential aurora shots. You decide.
We did well, our igloo looked pretty damn good, if you ignore the fact that we didn't have enough time to actually close the roof, since we had to get ready for dinner (priorities, you know)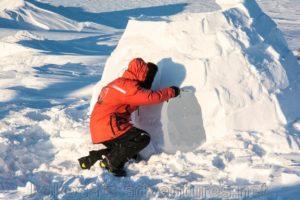 After dinner we made our way back to the igloo, to take some night shots, sadly without the planned aurora background.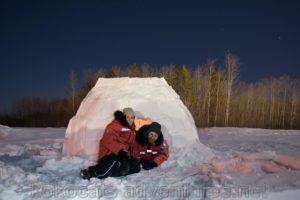 But than the most exciting thing happened:
We were told we would fly out the next morning! We packed our bags and got some sleep (while apparently some pretty damn good aurora action was going on outside – but you can't have everything).
Goodbye Thompson! Even if this week was really not what we had planned it to be, we truly made the best out of it.