I can't believe we have already been travelling for 2 weeks through NZ in our Mother of all Campervans. My plan to write daily updates failed misserably. The reasons are mainly campervan-related (it's always good to have something/someone to blame). Don't get me wrong, travelling in a campervan is great and I think it's possibly the easiest way if you don't want to plan every single day before you actually get here. It also provides some consistency, which is very nice when you travel for 4 weeks, like we do. BUT our van is a little bit too big. It makes driving on small windy roads rather challenging and therefore getting from A to B always takes longer. Even if the roads are wide enough, our maximum speed is 90km/h. When you finally get to your destination of the day, you migh just want to sit and relax or look around. Well, in our case it usually was time to prepare dinner. I must admit, our camper van is very well equipped. We even have a microwave oven (which we only have used to make popcorn). We therefore rather cook than go out for dinner. It's a shame that our camper doesn't have a BBQ, like some of the other models, but often the campsites have a BBQ which we are using instead.
We didn't think that still so many people would be traveling this time in the year, but it is really busy and we often had a lot of luck to get the last campsite space. We are now trying to call the campsite and book, as soon as we know how far we will get on the day. Most of the motels and hotels are also fully booked, it therefore might be wise to pre-book all the places you would like to stay in advance when travelling by car. We possibly should consider renting some of our spare beds out.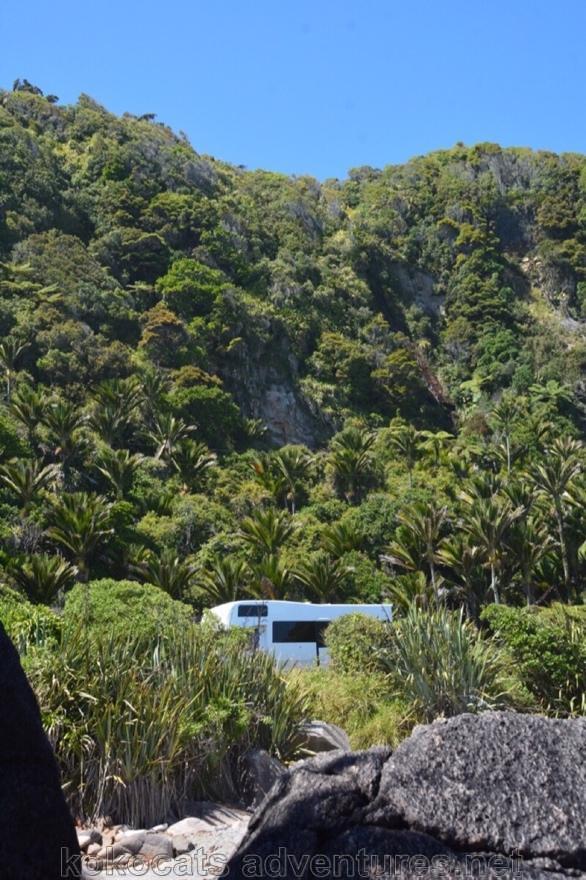 You possibly ask yourselves why we decided to book such a big van. It's all about timing. We wanted a camper with automatic transmission, and the only available model with shower and toilet was our "little" friend. So here we go, travelling through this amazing country with a van that fits 6 people. We for sure have space for all our luggage (NZ is only the first chapter in our adventure)
We are slowly getting used to the dimensions of our van and driving is getting a bit easier. The roads are also not very busy, which helps, since making space for cars behind you reduces the travel speed even more.
I must admit there are also some advantages of having such a huge van. Our bed is super compfortable and big. I haven't slept that well for ages.
Most of the time we stayed on official campsites, since places for freedom camping can not be found everywhere. The campsites vary a lot in compfort and cleaniness, but we managed ok so far. If you have a camper with toilet and shower you also have the pleasure of emptying out the toilet. This is most likely the least glamorous part of our travel 😉 but as with most systems in the van, this is rather well thought through and easy to be done but a bit smelly nevertheless.
And on this cheerful note, I wish you a good night, don't let the sandfly bite…