We are back in Canada! It looks like I can not stay away from this country for very long. Our last trip was only in March (and what a trip that was!) We are travelling with Churchill Wild again. It's our third trip with this company to see polar bears. And guess what – I would recommend them to everybody who wants to have an unforgettable experience in Canada's wilderness. For us it almost feels like coming home. Everybody we've met from Churchill Wild is super lovely and helpful. What they do to make your stay at the lodges special is extraordinary and impressive. Quite often it's just little things that make the big difference. You might wonder if this is enough to actually go there that often? Surely it is. Who doesn't like going home ☺ But actually this trip was supposed to be quite different to the ones before. In November (1. Trip 2013) and March (2. Trip 2017) the tundra is usually covered in snow. Therefore Felix and I were very excited to see this amazing landscape snow-free and in color. We were also hoping to see other animals, like black bears, caribou, wolfs, moose and migrating birds, not just polar bears.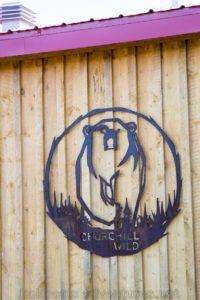 Getting to the lodge in the middle of nowhere is always a bit of a drag and involves a lot of flying around.
We arrived in Winnipeg via Montreal on Monday afternoon. It all went smoothly, which I'm really thankful for, since these long distance flights are tiring enough (especially when the movie choices are poor). I can really do without the extra excitement of delays, running to catch your connecting flight, lost luggage, etc.
In the evening we were greeted by members of the Churchill wild team and met our fellow travellers. As I might have mentioned in a previous post, the people you spend time with in a rather remote location can make or break your trip. It was only 12 of us and we were a nice mix of different nationalities and ages. So let's see how this will go.
Early on the next day we were flying out to Churchill, with Calm Air, followed by a flight on a small plane (possibly type Caravan – I have no clue about planes), out to Seal River Lodge.
Since there is only space for 8 people on the plane, we had to be split into two groups. Felix and I were part of the first group to fly out. Luckily I had a window seat (which Felix kindly
offered, so that I could take pictures). Flying over the tundra was spectacular. You can spot polar bears resting in the bushes, arctic geese flying in big flocks over the lakes, ready to migrate. There are so many lakes, this must be one of the most stunning areas in the world. Some of us even saw beluga wales in the Hudson Bay. We were flying over the Dymond Lake lodge, which was our home during the 2013 visit.
Excitement levels where rising, the closer we got to the lodge. We have not been at this lodge before, but it is one of the "Magnificent 7 luxury wilderness lodges of Canada" and its also included in the "National Geographic Unique Lodges of the world". Honestly, that sounds fairly promising and I was rather looking forward to it, to say the least. After we have been at the Seal River lodge and the Tundra Camp (YES, this trip includes camping), we will be the first Churchill wild customers, which have visited all four locations (Dymond Lake, Nanuk, Seal River and the Tundra Camp). I leave it to you to decide if we are special or just plain crazy.
Having now been there, I can confirm, life at the lodge is sheer bliss. You might be out in the middle of nowhere, but you for sure will be rather spoiled. And the food….. do not get me started on that. It is just amazing and will lead to a serious weight gain. While I'm there I'm trying not to worry about it (being back home now, it's a totally different story)
You might wonder why I only post all this now, after the trip. I know, a travel blog should ideally be written while you are there, and should provide short daily updates, food pictures (everybody likes food pictures – right?) and most likely a number of selfies (in my case including polar bears too). Looks like I am unable to do this and there are several reasons for it. One is that I'm terribly busy (in a good way) while I'm out and about. During the day, when not out on a hike or other kind of outing, I'm standing at the panoramic windows trying to spot some more wildlife or I'm eating. And man you would not want to miss this for anything. Not even for promoting your ever so glamorous life on social media. 😉 Well, "glamorous" is most likely not the word I should use here, since I usually look like a bit of a tramp, ready to go out on the tundra again. Don't get me wrong. A lot of people look stunning when they are dressed in their outdoor clothing. They never look stupid with a woolen hat on and when they take the hat off, their hair still looks great. Sadly, I'm not one of them.
Well, it looks like I got a bit sidetracked here, so back to why I have not written anything while I was at the lodge. I explained the wildlife spotting, eating (!!!!) and not to forget looking at the hundreds of pictures I've taken. These pictures usually do not include food pics or selfies. Food pictures I usually forget to take and I have seriously given up taking selfies, since I haven't mastered yet to take any pictures of myself on which I do not look like A. a scared chicken, B. my own grandmother or C. just silly. It's not a pretty sight, so I try to spare people with it. And I'm not trying to say that my grandmother wasn't pretty – she was just old, so I guess I should have said, that I'm looking "old" or possibly even "older than I am", just to stop people from saying: "but you are old….." (Oh dear, I got side tracked again!)
Where was I? Ah, looking at my pictures. You might think that this would have been the perfect moment to write a few lines, include some of the daily pictures, post it online and Bob's your uncle.
Well, to put it shortly, I didn't do that. Therefore I'm now sitting here writing it now. Well, more or less, since currently I'm not telling you a thing of what happened at the lodge.
OK, OK THE PICTURES! I should have mentioned that Jad Davenport, whom we met during our last trip in March, was the photo leader on this tour, which was one more reason for us to come. He is a NatGeo photographer and I was hoping to get as many tips and ideas as possible and besides this, he is real fun to travel with. So I was looking at my daily shots and tried to analyse what went wrong and how I can improve them. That kept me busy during most of the free time. After dinner it was time to get the camera ready for the possibility of seeing northern lights and trying to get some sleep before they show up, which again stopped me from writing. Its bed time now but I promise that the next entry will only be about the trip 😉